SocialBook is the ultimate platform for both brands and influencers to grow their businesses.

For brands, we have time-saving tools for you to search, contact and collaborate with influencers. While for content creators, our free tools are here to help you increase your followings and monetize your influence!
For Brands

Introducing SocialBook's game-changing tool, Influencer Marketing Suite. Spend less money, time and resources in finding and contracting the best influencers to fit your brand.  

Take a look at the 8 highlights of Influencer Marketing Suite:
Highlight 1: Influencer Database Search
Look for over 5 million influencers all over the internet! We have 4 ways to search for influencers that cater to your various needs. Then, add them to your Influencer Lists.
Name Search
If you already know who to check out, copy and paste their social URL or username to search.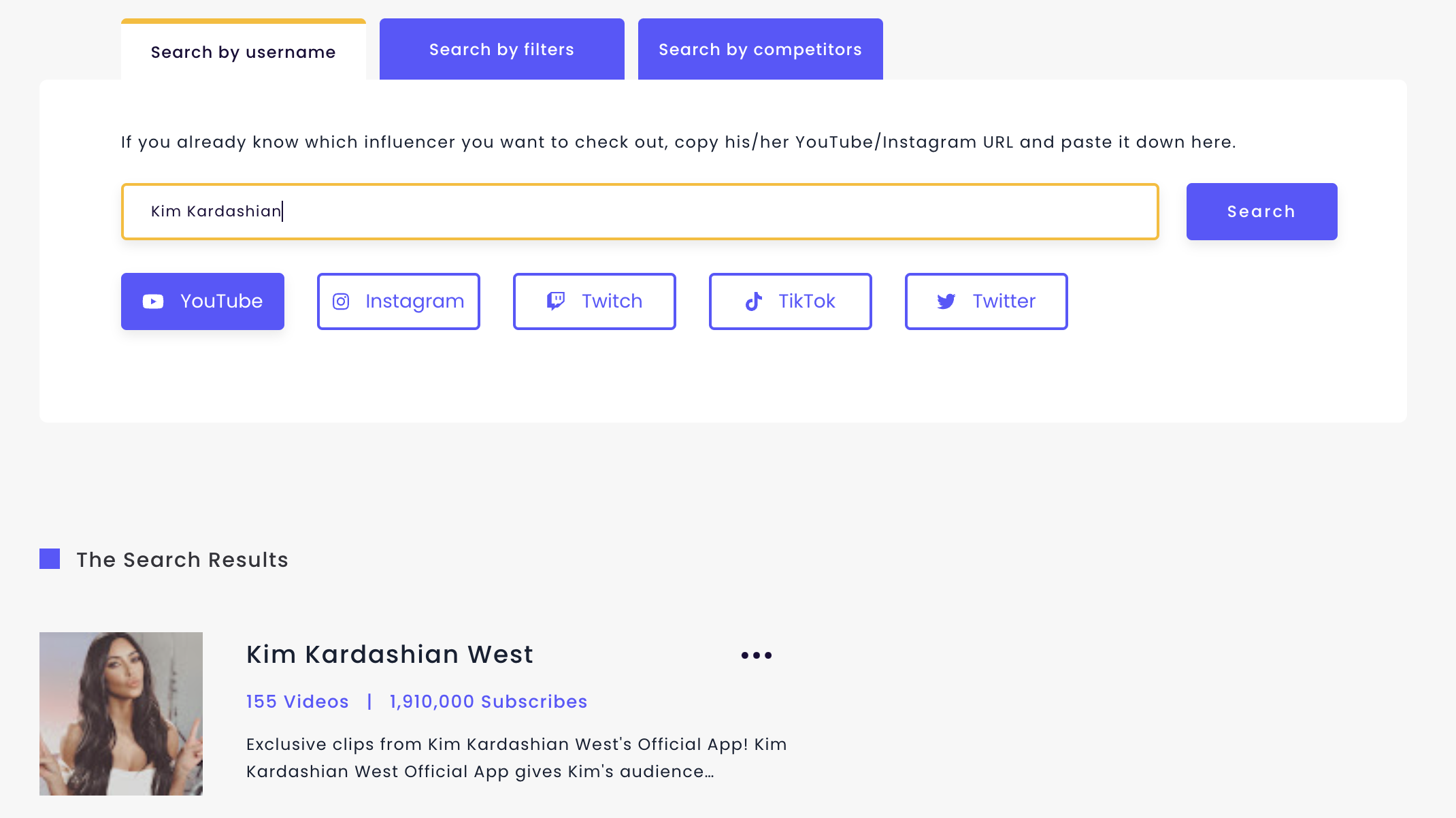 Filtered Search
Use our filters to look for influencers who fit your criteria.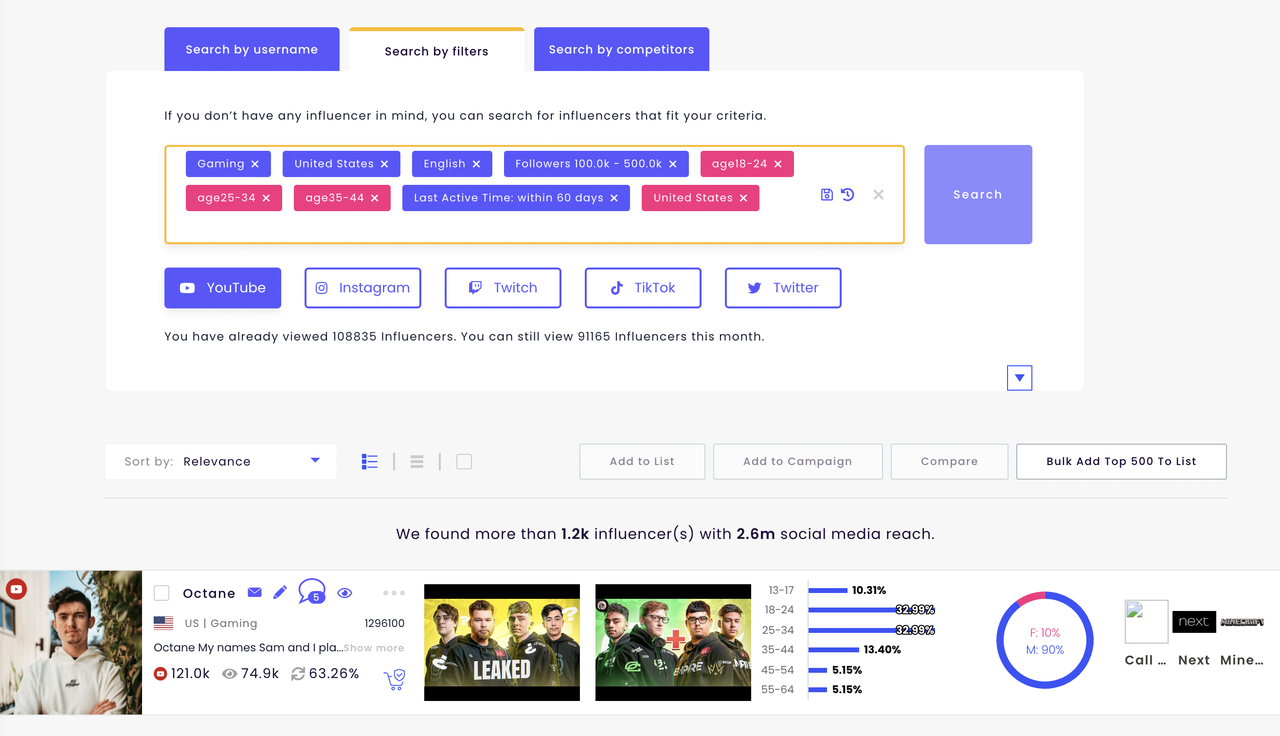 Competition Search
Search for your rival brands and check out who your competitions are hiring.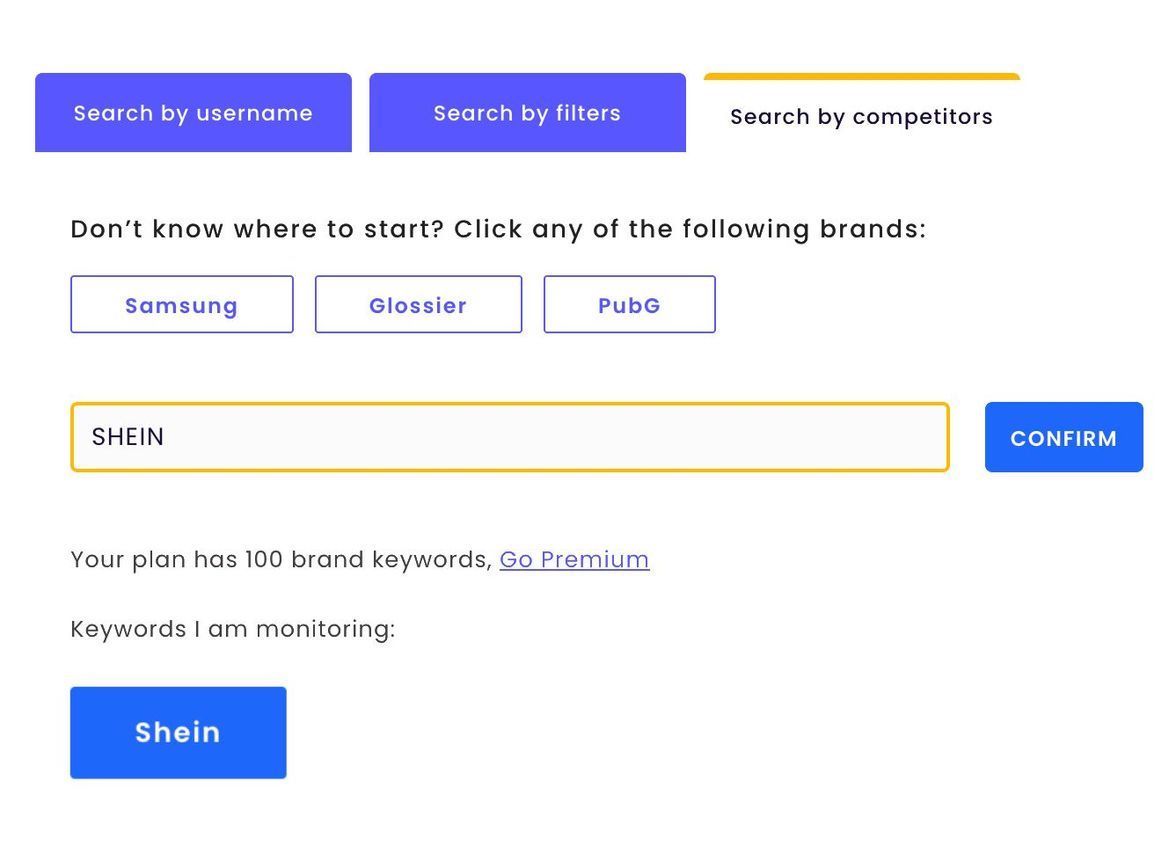 SocialBook Checker
Add SocialBook Checker to your Chrome extensions and add influencers to your lists when you see them.

Highlight 2: Influencer List
After you search for influencers through multiple ways, you should add the selected influencers to an influencer list.
Here, not only can you see the statistics of your influencer performance, but also manage them. For example, you can add notes to their profiles so that you'll have a clearer idea on the collaboration details.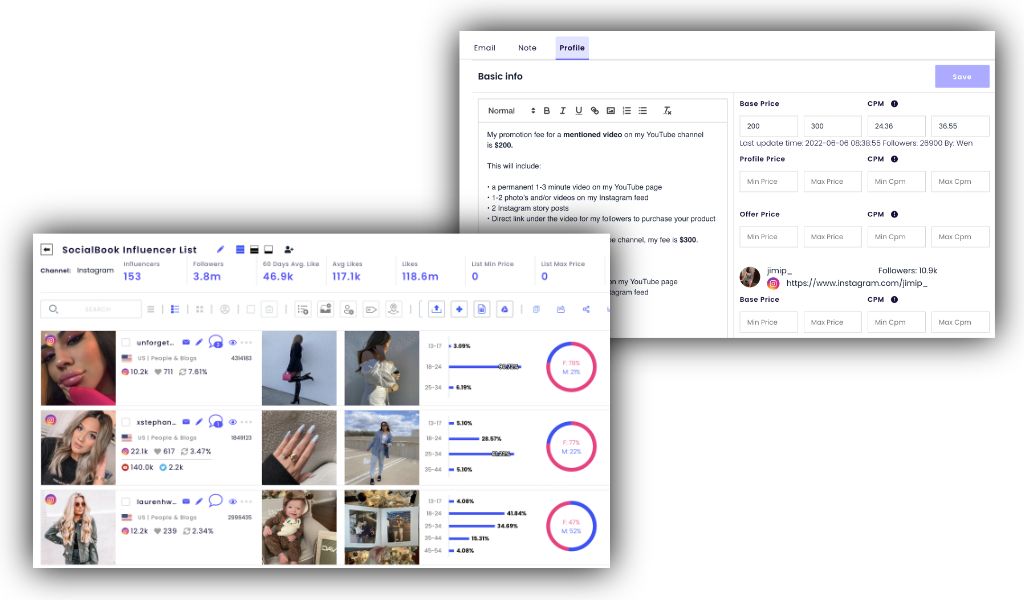 Highlight 3: Understand Influencer Profile Reports in Depth
With your list of influencers, you must have a bunch of questions to ask about them:

How much do they charge per post?
What percentage of their followers are real?
Which brands have they worked with before and how did they perform?
......
You only want to spend on those who have the potential to be commercially fit with your brand. SocialBook's advanced influencer marketing software has sorted out a few top influencer profiles for you. Take a look:
Highlight 4: Performance Prediction
Now, you have a list of verified influencers. You can also run a quick performance check, our performance prediction will tell you:
How much the campaign will cost;
What results you are expecting;
How well your influencers perform on average & more.
……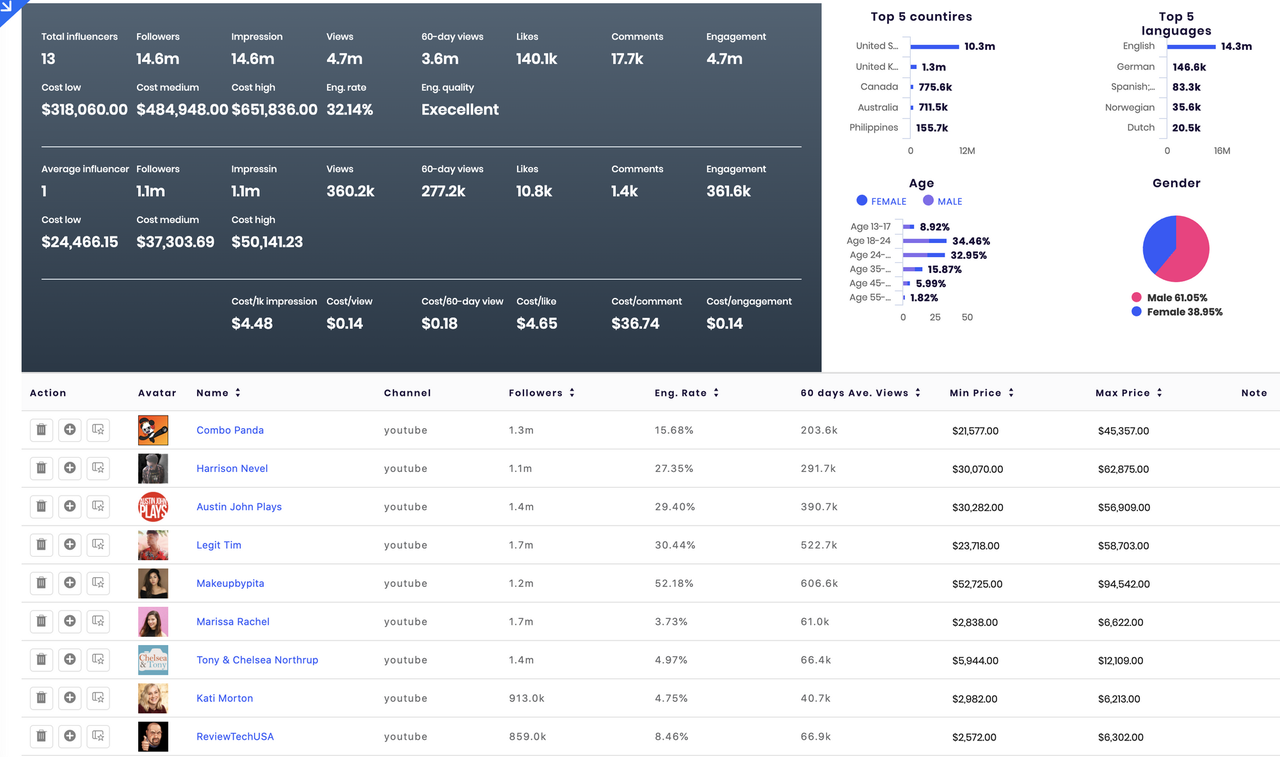 Highlight 5: Contact Influencers
To get the influencers on board with your campaign, it's important to save time and be efficient. You can connect your company email with SocialBook and send bulk emails to all the influencers on your list, just like the example below: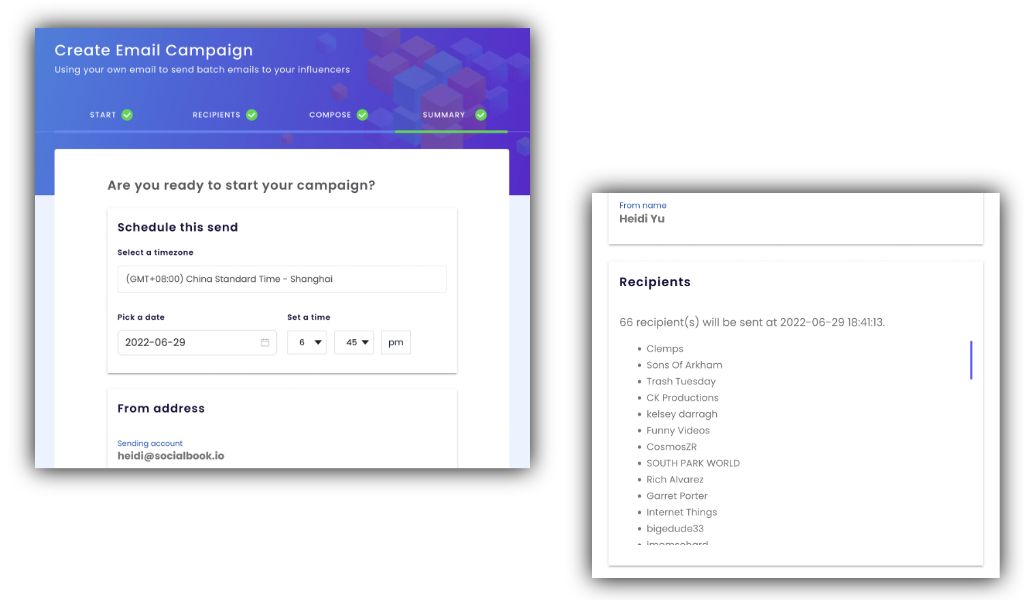 Besides, there are various useful features that make your email campaign more efficient:
Dripping Email
For example, if an email is not replied within 3 days, the system will automatically send a follow-up email.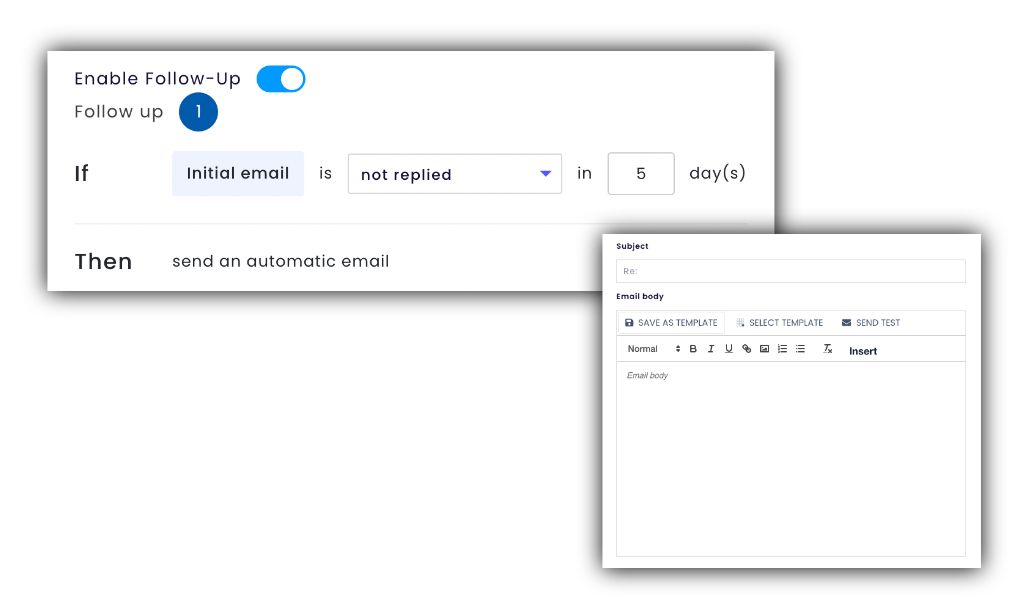 SocialMailer
Use our SocialMailer tool to send bulk customized emails from your Gmail or Outlook email accounts.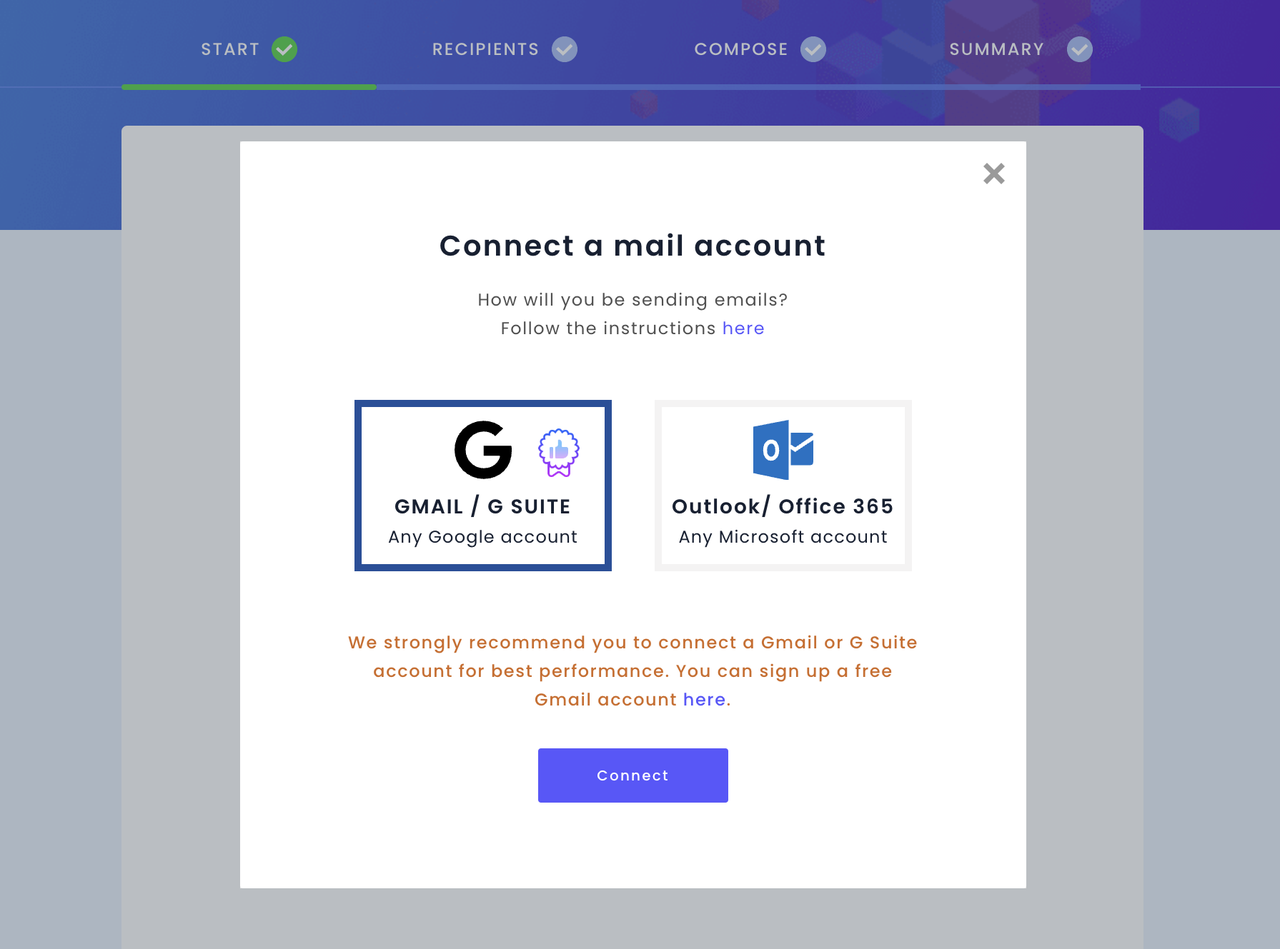 Email Templates
Choose from our email templates that have proven results. Of course, you can always create your own templates and save them to use later.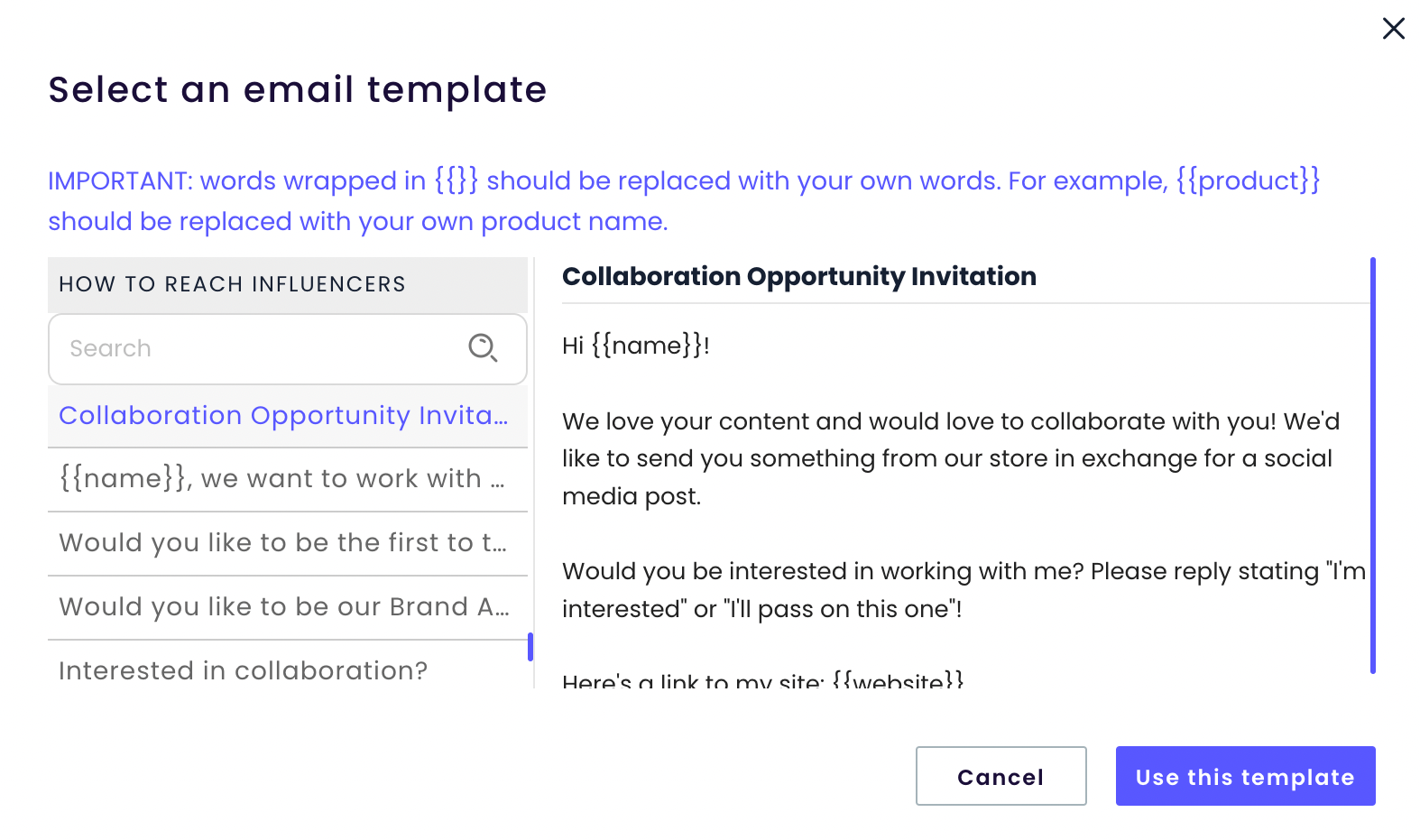 Highlight 6: Campaign Management & KPI Tracking
Email those you like. After the influencers express their interests in the collaboration, you should move them to a campaign, name your campaign, and track the progress of your project!
In the campaign, you can have an eye on the campaign timeline / draft review / contract status / post link / affiliate link / payment detail  / cost tracking / performance data / sales rate ......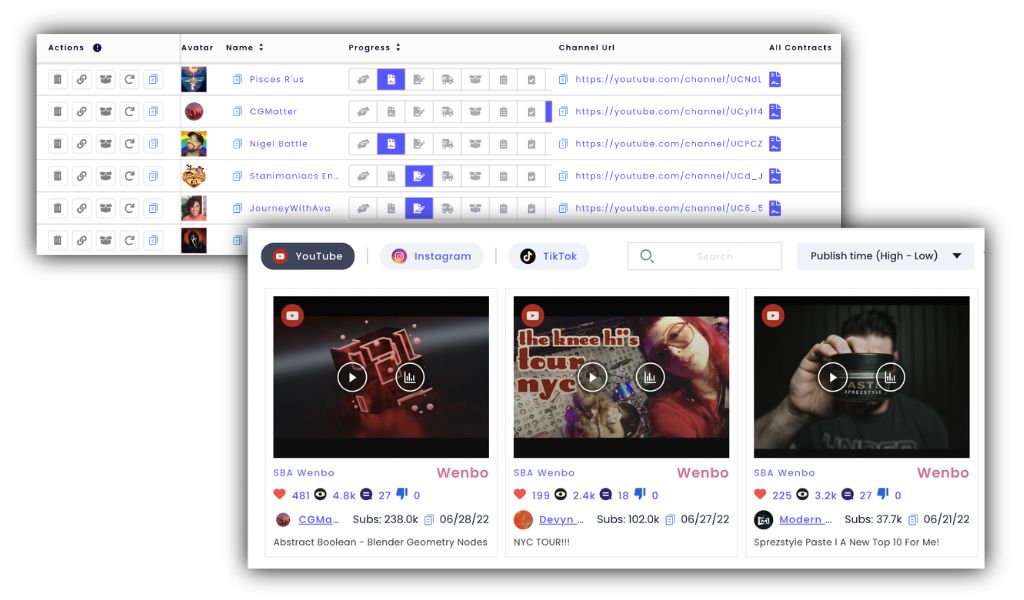 Highlight 7: Campaign Billboard
After the promotional posts go live, SocialBook will automatically gather the information of each post to the campaign billboard, where you can compare different influencer posts in terms of the views, likes, comments and long-term statistics.
Highlight 8: Competitor Monitor
You can always track your competitors. From small business to major enterprise, SocialBook provides you with their statistics in terms of the number of influencers they hire, the real-time results of their campaigns, budgets, reaches and etc.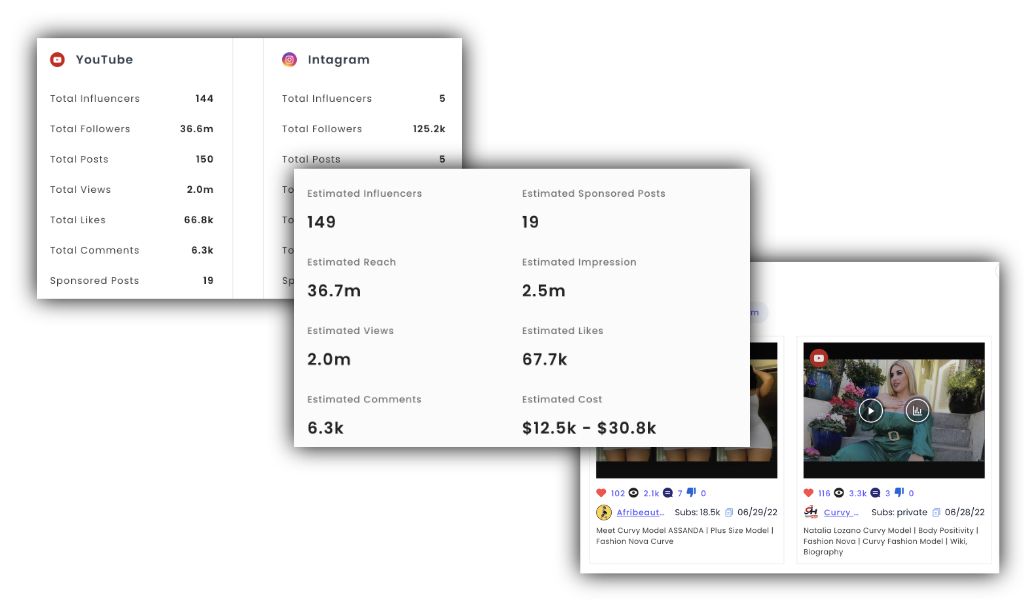 ---
---
---
---
---
---
For Influencers
SocialBook provides everything content creators need when they're making better content, growing audience, getting brand offers and eventually, selling one's own merch. With our free growth tools, you can become the next most hired influencer and make money out of your followers!
Highlight 1: Know My Influence
Connect your YouTube and/or Instagram accounts to SocialBook, and learn the worth of your social channels.

Your influence report includes statistics relating to your channel performance. Then, you will have a clearer idea of what type of posts performs the best to attract engagement.

For example, Kim Kardashian and PewDiePie are the top influencers on Instagram and YouTube. Check out their influence reports here:
Highlight 2: Know My Competitor
As your competitors are listed in your influence report, SocialBook also uses diagrams and tables to help you analyze them. For example, ItsSkyLOL's audience overlaps with PewDiePie's the most, we can click ItsSkyLOL's avatar to see her report!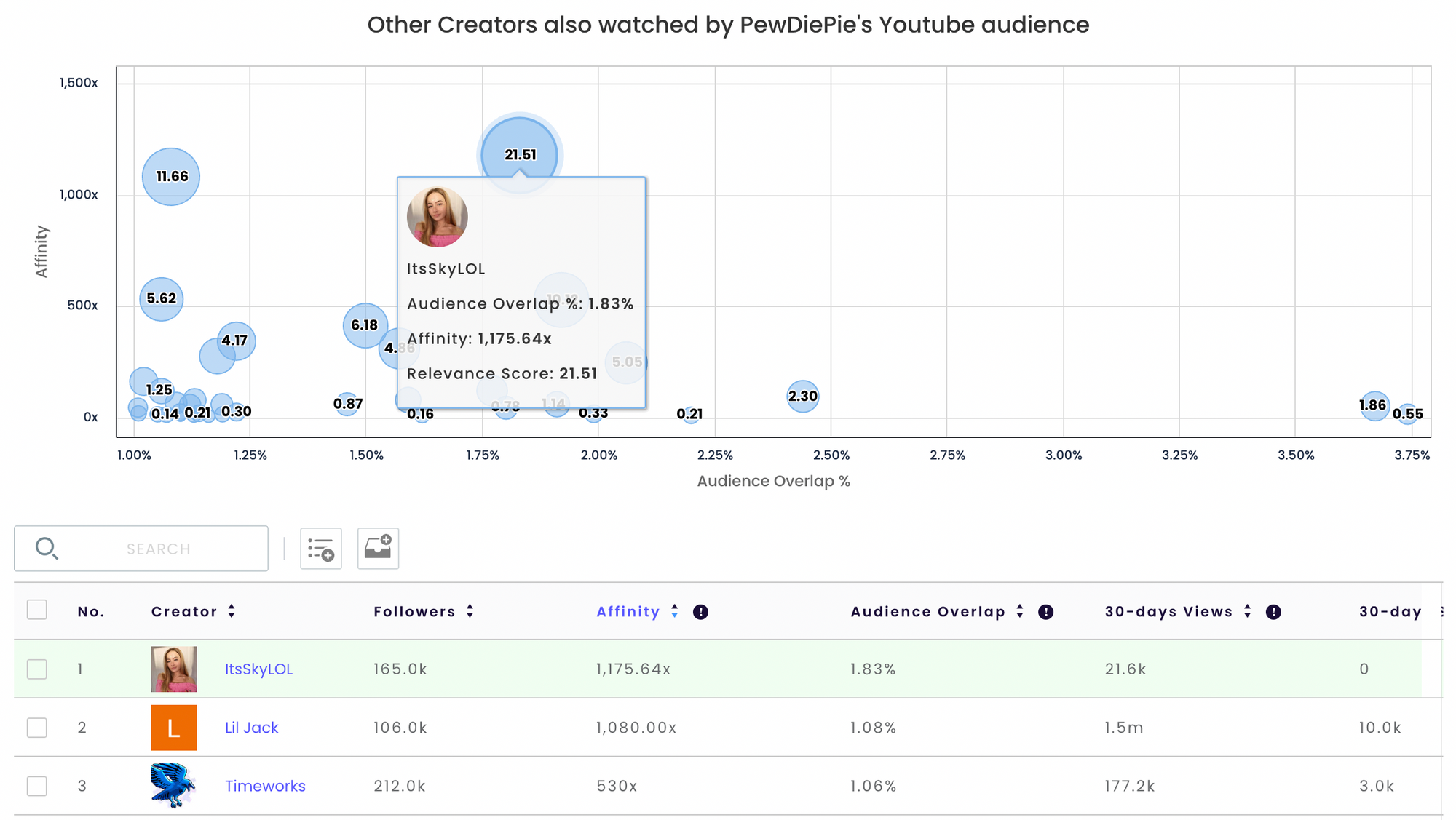 If you're just an upcoming influencer and want to learn from the established ones, simply type in their channel names or URLs, SocialBook will generate a report of their influence in real-time!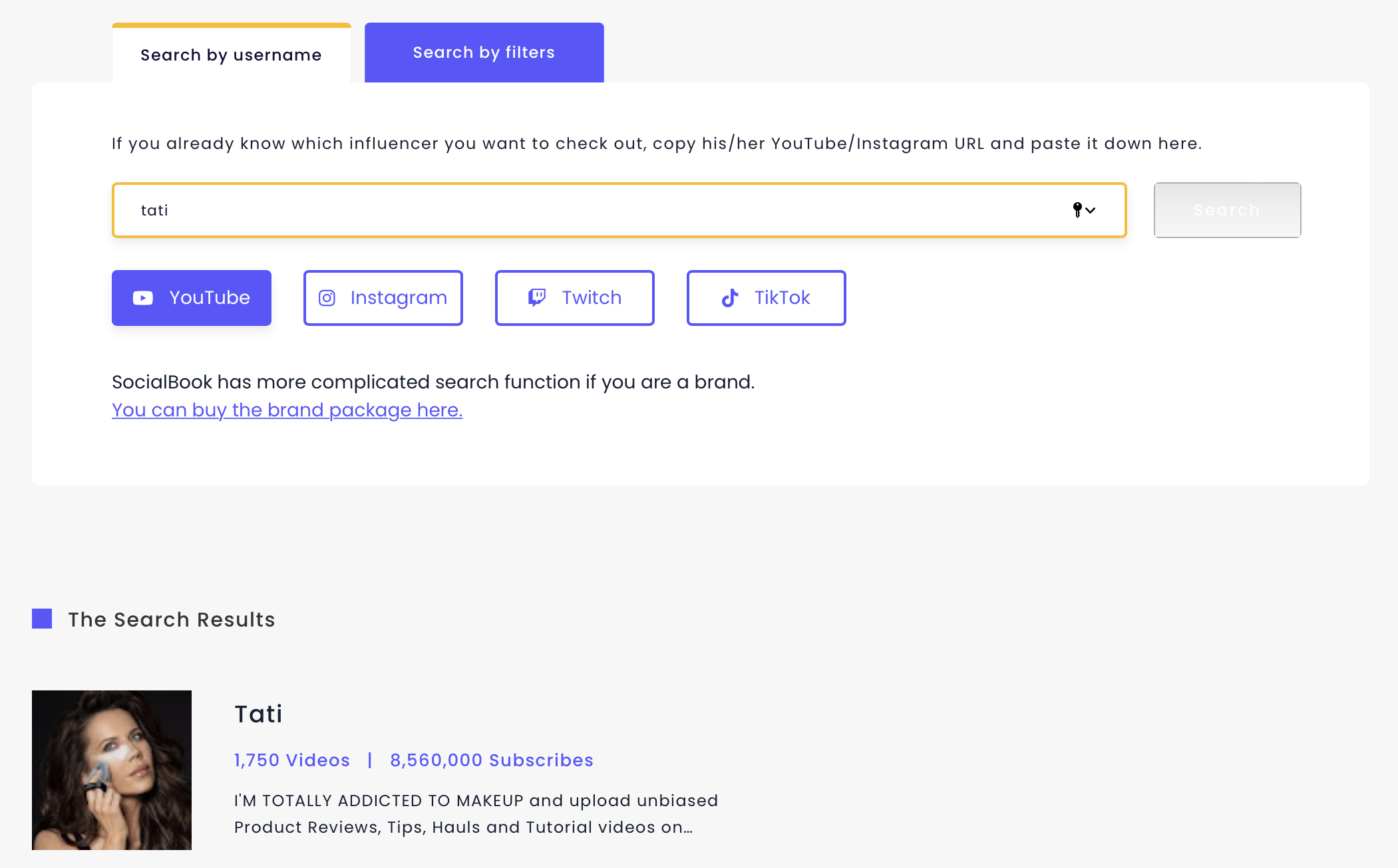 Highlight 3: Get Brand Offers
Want to make some money from sponsorships? You can apply for brand deals from SocialBook's campaign launcher.

Please make sure to finish the brand collaboration form so that the system can match you with the right deals based on your preferences.

You can always be a SocialBook Ambassador and invite friends to join us. You will receive a percentaged commission on every purchase or subscription they make through your links.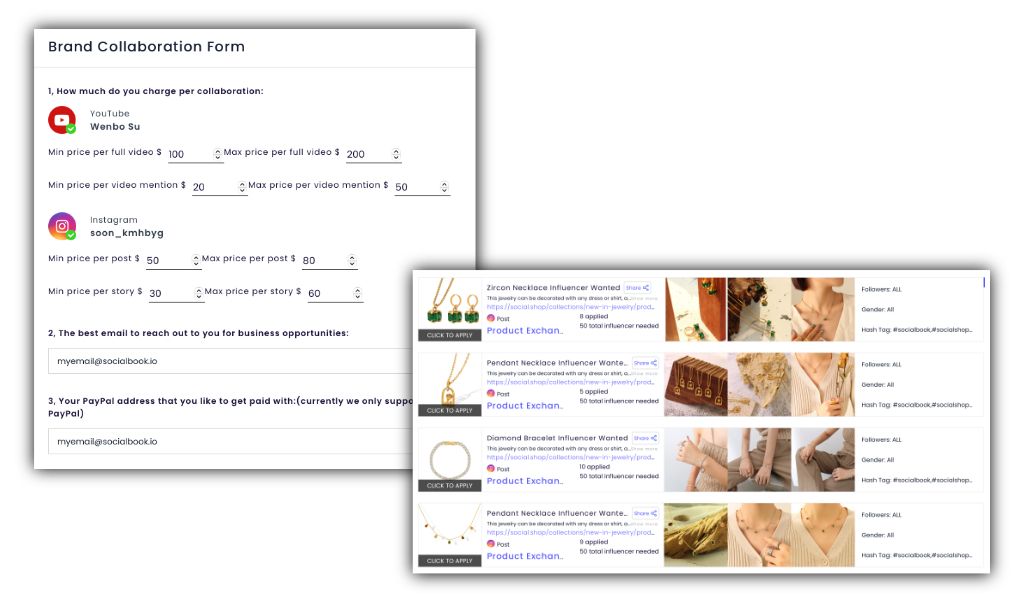 Highlight 4: Growth Tools
It's always a nice thing to grow your audience by making better content. You can grow your socials by using the right tags or hashtags, doing research on content topics and keeping up with the Influencer Academy articles.

Most importantly, we have a series of free tools that can help with your creative planning, visual editing, and content promotion!
Plan Your Content
Influencer Academy
We have a whole section of how to become an influencer here for you. If you have any thoughts you like to share with other influencers, write to us, too! Access to our Influencer Academy by clicking here.
YouTube Builder
If you own a YouTube channel, you have to try out the YouTube Builder. It helps you with:

Tag management: find the right tag to appear higher in search results
Thumbnail maker: outperform your competitors using fonts, stock images and templates
Trend alerts: get notified with every trending topic
Competitor monitor: find similar channels and analyze their channel statistics
Link shortener: shorten your affiliate links and track the clicks
To add YouTube Builder to your Chrome extension, click here.
Tag Research
If you're not a YouTuber, you can also use our Tag Research to follow the most trending topics and gain inspiring ideas for content.
Edit Images/Videos
Photo Background Remover
For content creators, sometimes it's essential to swap a photo's background. Our background remover tool can process your images fast and clean - upload an image and try it out now!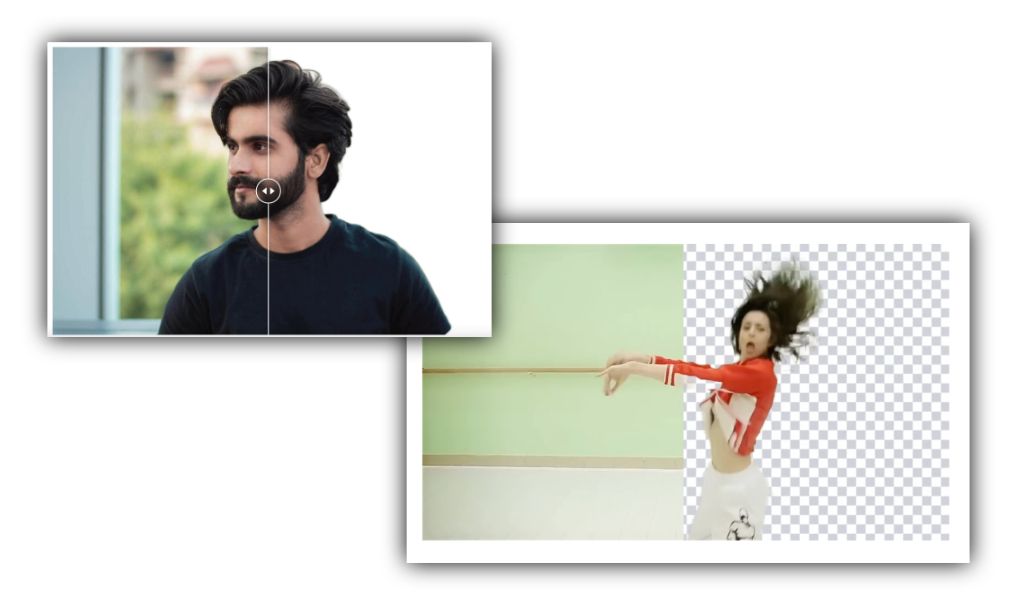 Video Background Remover
You can now erase the background of your video, too! Without a green screen, SocialBook's advanced AI can automatically detect the human in a video and give you a transparent background. Try it now.
SocialBook Cartoonizer
Cartoon yourself, turn yourself into a superhero with SocialBook Cartoonizer. Ask your followers what they think of your cartoon images. Or maybe use it as your avatar, people are gonna love it!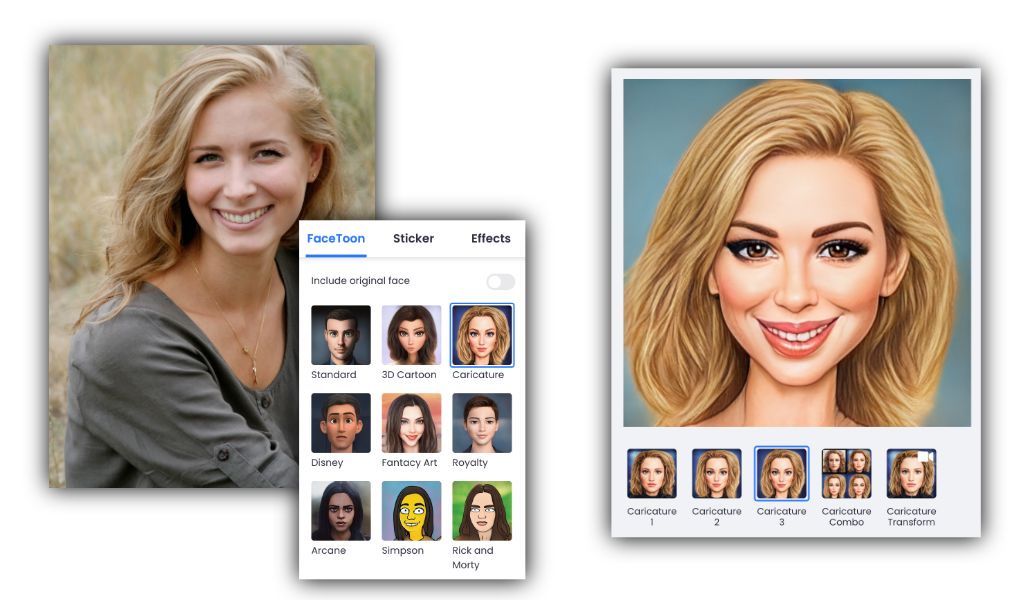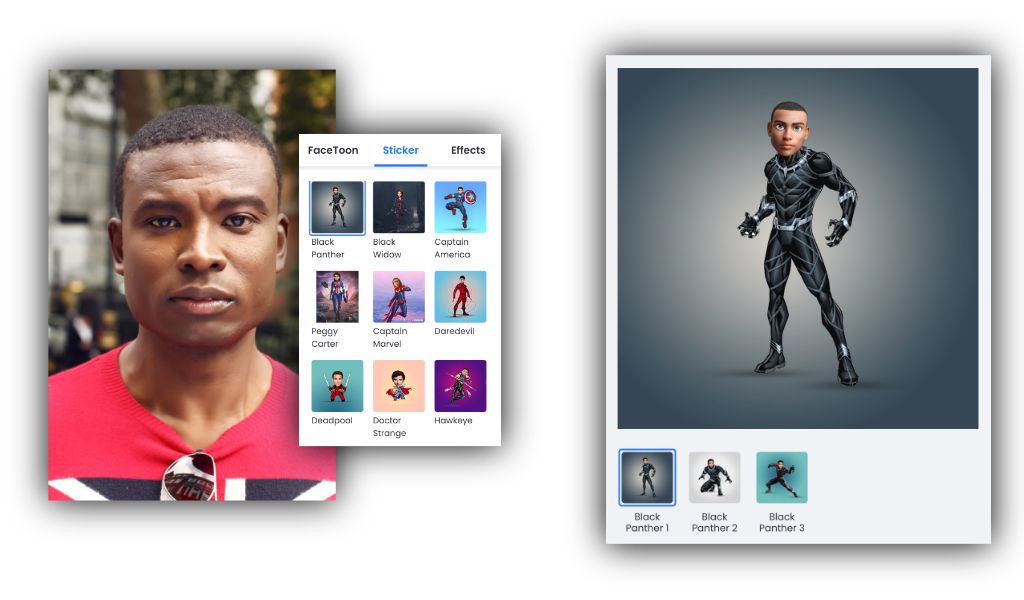 Media Kit
Pitch to the brands with a media kit that contains everything they need to know about you. The chance of getting an offer is 50% higher than those who don't have a media kit.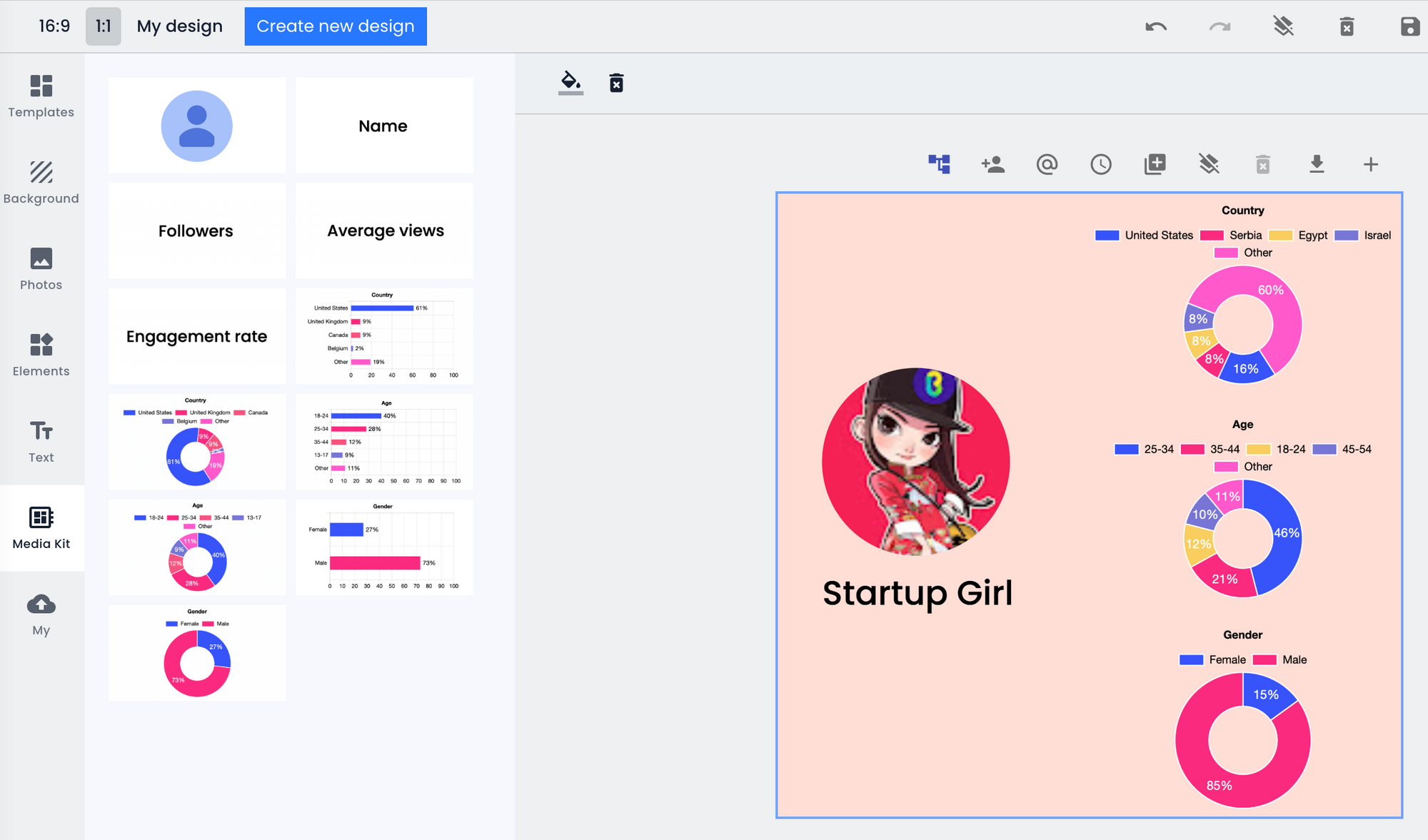 Photo Studio
Photo Studio helps you to make attractive thumbnails, use neat Instagram templates, and edit all your pictures to gain more clicks.

Promote Social Channels
Link.One
Link.One is your mini website that connects all the socials and links you want to show to everybody. You can promote your contents, monetize from affiliate posts and gain followers from site to site!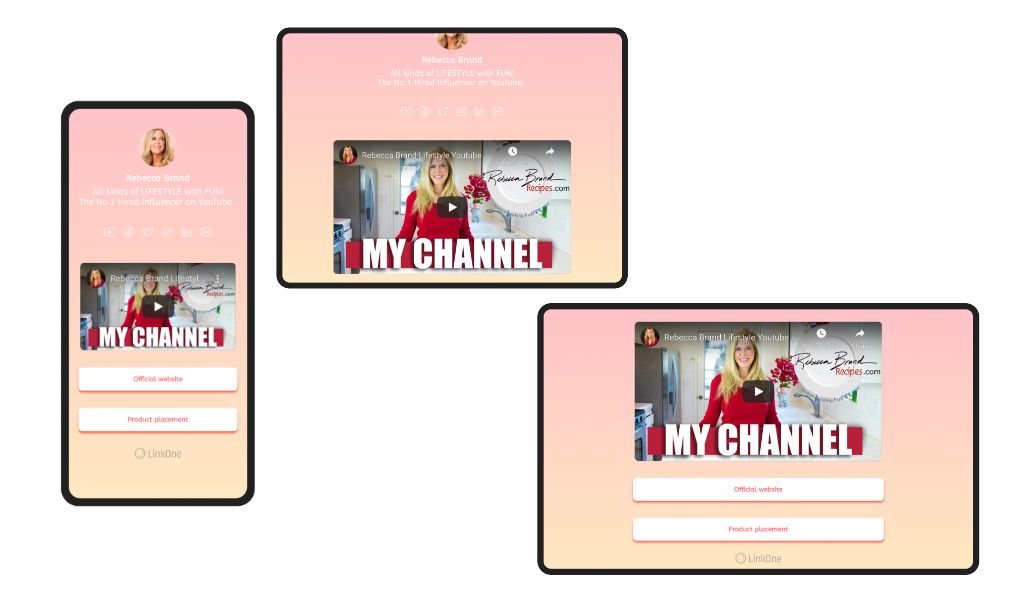 Highlight 5: SocialShop
Click the image to shop on SocialShop, the exclusive e-commerce site that brings the best products to customers through our influencers network!